Think back to when you had your last new kitchen. Can you remember how much time you spent thinking about extraction?
Probably not much, especially when planning the island and the colour of your cabinets is way more exciting.
Although it's not the most thrilling topic in the world, a reliable kitchen extraction system is an essential ingredient to making your food taste fantastic while keeping your home smelling great.
So, how do you know which one is best for your kitchen?
It all depends on the layout of your kitchen, your design and cooking preferences, and your noise and energy requirements. You can choose from the four main types of extractors — venting hob, downdraft, ceiling, and above-hob.
Hood Extractor
Hood, above-hob or chimney kitchen extractors are more traditional in appearance and a little easier to install as you don't need to cut holes in your kitchen units or worktops or buy a whole new hob.
They're designed to sit directly above the hob, with the length of the hood decided by the size of the hob below. Chimney hoods come in various styles and colours, so you can be sure to find one that matches the rest of your home decor. You can even find them with built-in lighting (you'll need to consider that they're permanently visible).
Hood extractors have come a long way since the old days of ugly-looking, intrusive designs, and they are very powerful and efficient, so great if you're a regular Indian or Thai wok-style chef. They can be noisier though, so bear this in mind.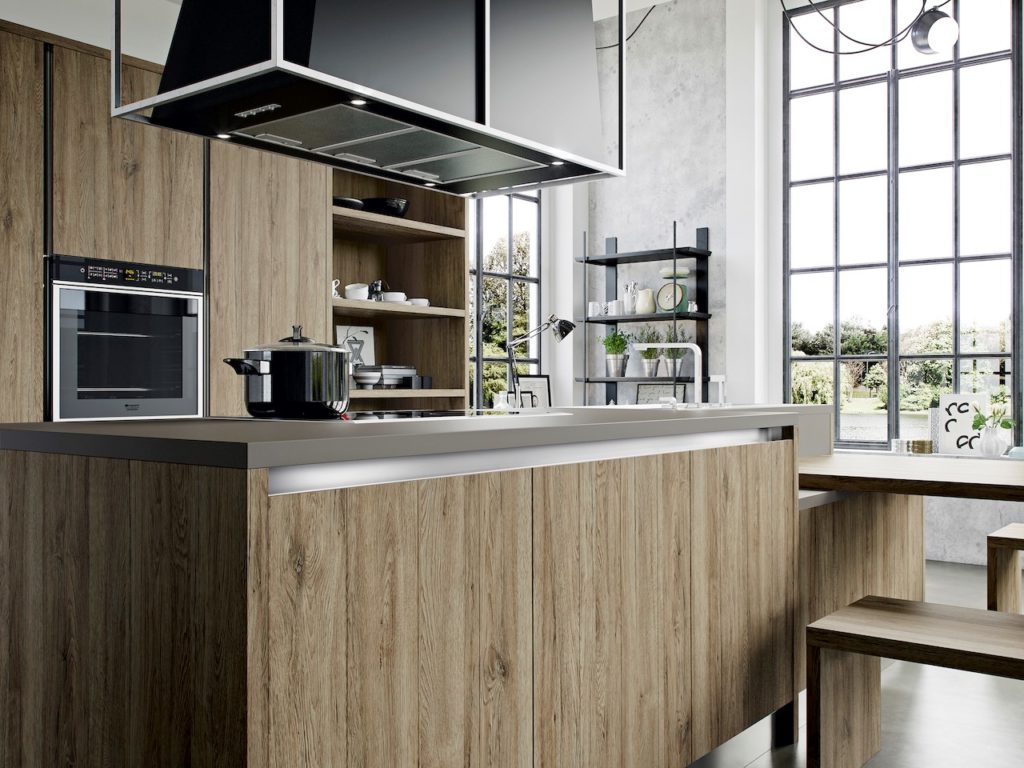 Ceiling
A ceiling extractor hood is a stylish, practical and space-saving addition to any kitchen. It doesn't hang from the ceiling but is rather inset into it.
Due to their slimline design, they don't overwhelm the room. They can be used over an island or breakfast bar, ideal for open-plan kitchens.
One significant consideration is the height of your ceilings. The higher they are, the fewer fumes they will capture. If you're in a period-style property with high ceilings, unfortunately, this extraction option is a no-go.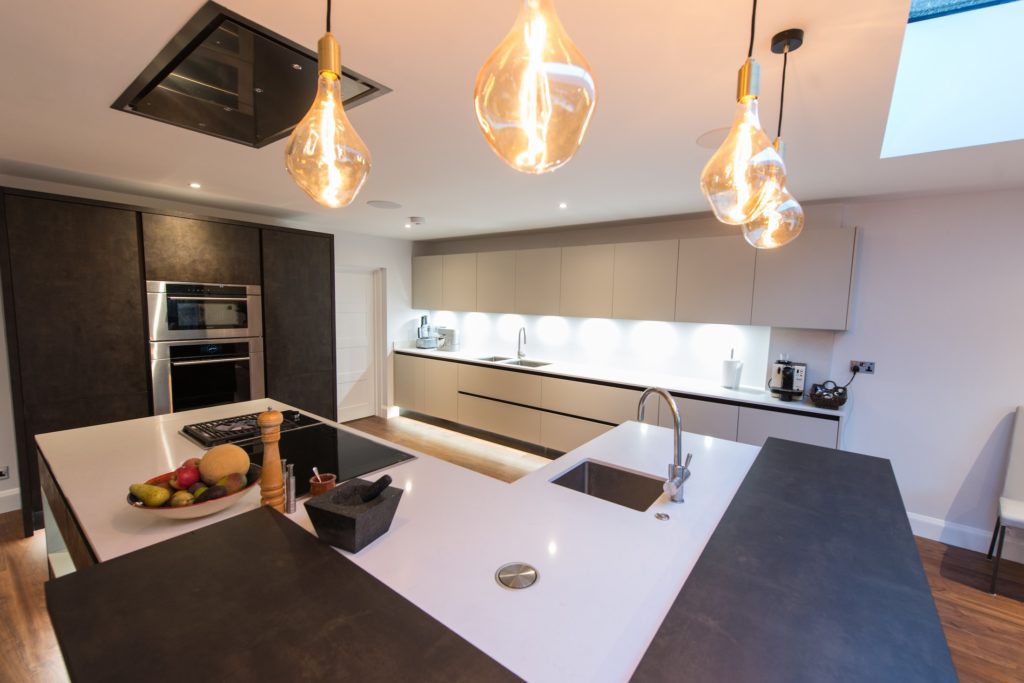 Downdraft Extractor
A downdraft extractor is designed to fit seamlessly into your kitchen units. Hidden from view, it will only be visible when in use. These are ideal for kitchens where you want the extraction to blend into the room, or you don't want a prominent extractor fan above your hob.
They're also a good choice if your kitchen is on the smaller side and you want to avoid the space looking too cluttered. Downdraft extractors are usually a lot quieter too!
It's also a good choice for islands with no obvious wall to attach an extractor to, but you will need the space underneath your worktop to house the extractor when it's not in use.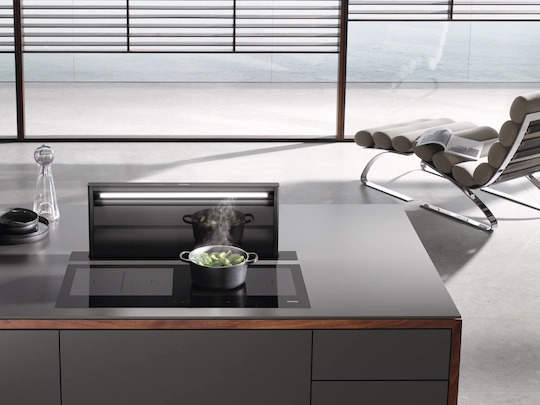 Venting Hob
A venting hob is an excellent solution if you're keen for a hob on your kitchen island (but don't have a wall for the extractor). They don't take up any additional room and negate the need for an imposing hood extractor that may block your view of the rest of the space.
They're a perfect option for minimalist, contemporary kitchens because they're virtually invisible.
It's worth noting that because they're forcing fumes in the opposite direction, they're around 85% as effective as their traditional counterparts. They are also restricted on height as they extract from the ground up, so consider these issues if you're an avid cook with many large pans or woks on the go.
We're big fans of the Miele and Siemens venting hobs for their range, functionality and aesthetic.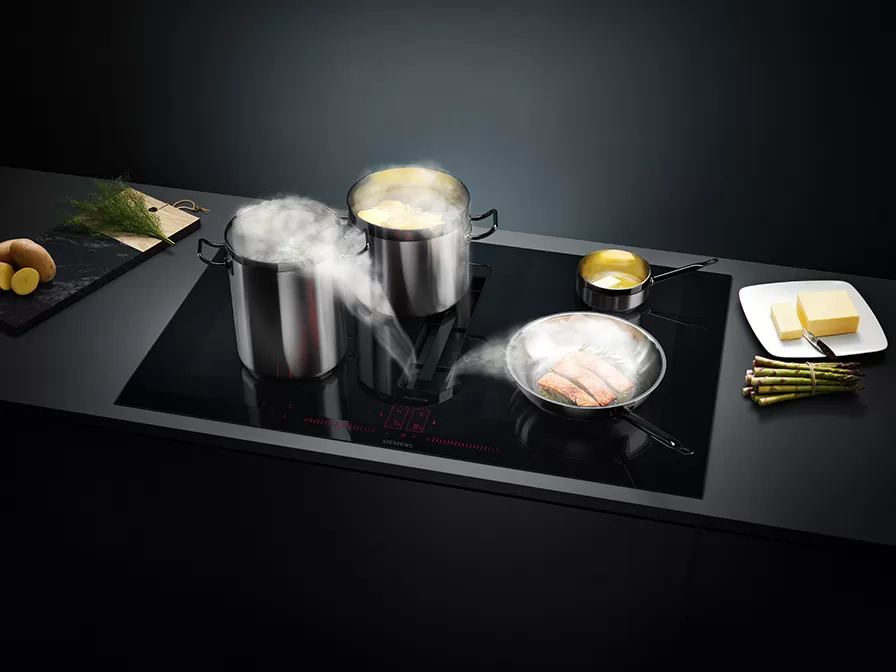 A final word on ducting…
Don't neglect ducting! Ducting is the piping that allows air pushed by an extractor to travel to its final destination. It's essential the correct size piping is used, and it's important to limit the number of bends as this reduces effectivity. Where possible, it's best to use rigid over flexi ducting, which of course we can advise you fully on.
To see our extractor range, head to our sister website dedicated to appliances.
And if you're looking for some advice on a new kitchen in your London or Hertfordshire home, contact us to arrange a no pressure chat.