When it comes to designing our homes, 'Contemporary Kitchens' are highly sought-after.
The recipe for the perfect contemporary kitchen design in any style of home is simple and is influenced heavily by individual personality and style preferences.
So, what is a contemporary kitchen? It's a style that encompasses trends and innovations that are very 'current' and includes features that will stay stylish for a long time.
Here's a short guide to one of our recent projects to help you piece together your own modern kitchen.
The main shell of this beautiful modern kitchen is the Doimo Aspen Range. Seen here in a Cognac Laminate Woodgrain finish with a statement island in Matt White Lacquer and impressive gloss black glass fronted wall units.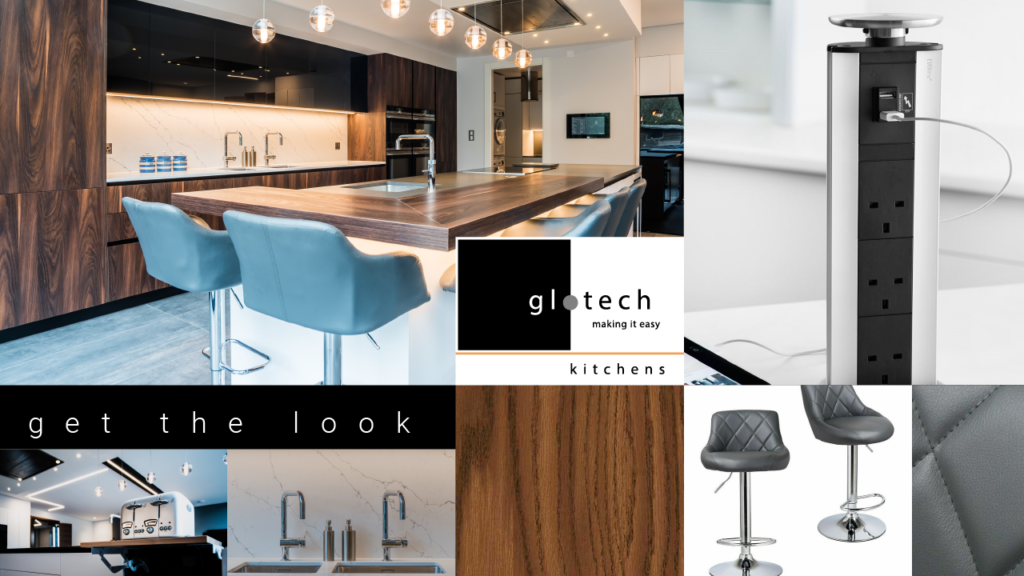 For this client, entertaining was a big part of their life, so it was vital that this kitchen was open and inviting. We created the kitchen island to be a focal point with these beautiful lights and plenty of seating. We've sourced and linked some similar items that you can check out for yourself.
As mentioned earlier, the key to contemporary kitchen design is to be influenced by new trends and technology. You'll see we used LED kitchen lighting throughout this design for an ultra-modern touch. We also added an Evoline pop-up socket so that this family could gather at the island to work or charge their phones.
We chose two Siemens double ovens with warming drawers, perfect for dinner parties, and an integrated Caple wine fridge for the appliances. We also placed the hob on the island with a separate sink so that the chef of the home can cook and socialise with their guests at the same time.
In addition to the kitchen island sink, we added another two sinks on the back worktop to ensure this busy family could all be in the kitchen together at any time. Quooker taps are quickly becoming a 'must have' for any kitchen, but the contemporary kitchen in particular really benefits from hot, sparkling and filtered water on tap. The final piece of this design was its fantastic storage solutions. There was an abundance of space available to utilise bespoke storage options that were purpose-built to make this family's day-to-day life as organised as possible. Everything had its place, including the toaster resulting in clear worktops and a minimalist finish that let the design features do the talking.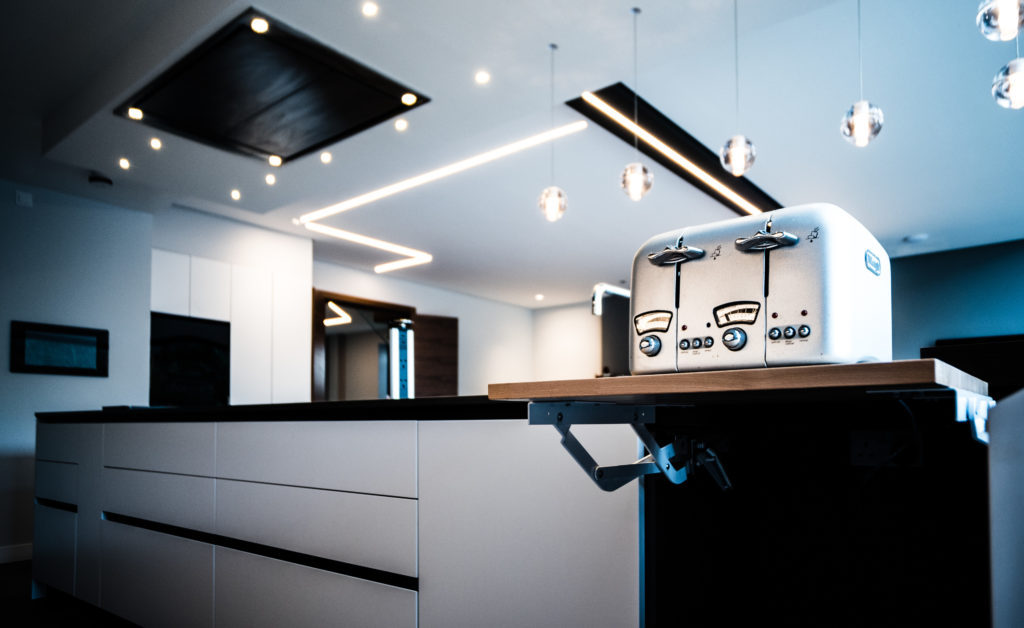 Contact Us for Modern Kitchen Design
At Glotech Kitchens, we're experts in creating a bespoke contemporary kitchen that is designed around you – if this is something you'd like for your new kitchen then get in touch with.
Call us on 0208 492 7508 (London) or 01727 896 766 (St Albans) to speak to one of our expert kitchen designers. Alternatively, you can send us a message here.