Finding the right kitchen appliances will complete your kitchen design, adding more features, functionality and convenience.
It's imperative you put some deep thought into what you need and want from your new kitchen appliances. They need to be fit for your needs and should last as long as possible – you don't want to have to replace them in a few years.
Here are some things to consider when choosing your kitchen appliances:
Cooker hoods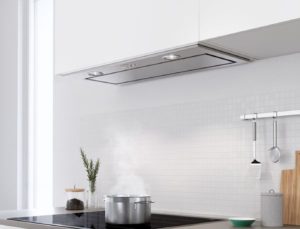 It's an essential consideration that often gets neglected.
But, as kitchen design becomes multi-functional with open plan living, the cooking area must become well segregated by powerful a kitchen extraction hood that takes away cooking smells.
Although ceiling cooker hoods look great and can be very powerful, they may not always be the perfect choice. You need to consider the location, are there any steels in the way? Is ducting possible? And if you often cook Asian cuisine for example, ceiling cooker hoods often won't be enough to draw the fat out, as it is too high. The fat will simply cool and fall back to the kitchen surfaces and floor.
Canopy cooker hoods are the most versatile option as they suit many spaces, and come in a wide variety of stylish designs.
If you're looking for something ultra-modern and discreet especially on an island, a downdraft kitchen extractor located in or near the hob is the perfect solution.
Ovens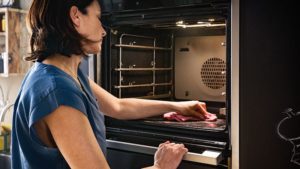 The oven options in 2021 are endless and are entirely personal to you and your household's cooking habits.
You may be used to one style of cooking such as fanned cooking, however new combi steam ovens are well worth considering and the results can be out of this world.
Steam only ovens can be a very healthy way of cooking fish, vegetables etc but also things like poached eggs and pasta. These ovens also free up the hob meaning that you will have more space to do other things or simply just do away with hob space freeing up more work surface.
Think about the cleaning options. One of the most popular options at the moment is the Pyrolytic self-cleaning oven (need we say more?!). With the touch of a button, you can reduce food deposits and grease in your oven to ash, waiting to be wiped away. Hours spent with rubber gloves and expensive toxic chemicals are a thing of the past and if you do a lot of cooking, frankly this oven is a real must-have.
Induction hobs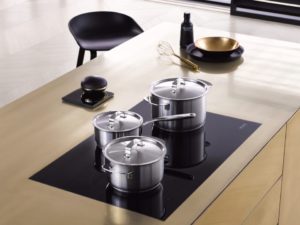 This is more than just your average hob.
For a kickoff, not only do induction hobs look great, but they're also packed with the latest technology. Induction hobs are super efficient, ultra safe and very easy to clean.
With the latest induction hobs, you can have multi and flexi zones that heat up (not just the one ring), so it can be used for griddles, fish kettles and big pans. The options are endless.
But if you're still on the fence between a more traditional gas hob and going electric, then fear not! You may want to look into the domino hobs and mix and match, giving you the best of both worlds.
We would always think carefully about a mixed fuel single hob however, as these can be more temperamental and will always have to be repaired by a gas engineer even if just an electrical issue.
Dishwasher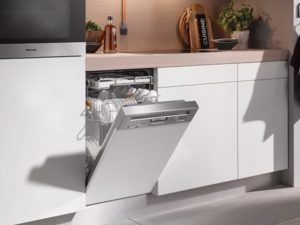 They aren't for everyone, so firstly you need to decide if you want one. If you're considering one, your next decision is between a standard size or slimline. This will probably come down to how many are in the household, or if the dishwasher will be used for clearing up after Sunday roasts and dinner parties (when we are finally allowed guests again of course!).
If you have an open plan kitchen, you'll need a quiet dishwasher. These are a little pricier but worth it in the long run especially if you have a multi-functional space where people tend to gather through the day or sit in after dinner. The quiet ones often shine a light on the floor, so you know the dishwasher is on.
We really hope the above helps and gives you some food for thought.
Let Us Help You Find The Right Kitchen Appliances
Did you know that Glotech Kitchens are members of Europe's largest electrical buying group?
Our membership enables us to obtain the latest kitchen appliances at the most competitive prices, so if you'd like help designing a great quality kitchen with the perfect appliances, get in touch!
Give us a call on 0208 492 7508 or send us a message here.